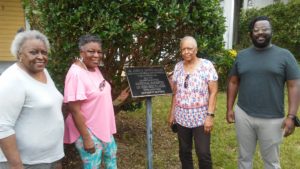 NATCHEZ, Miss. – An official of the Mississippi Humanities Council (MHC) recently came to Natchez to offer support for three of its local museums.
John Spann, the program and outreach officer for MHC, spent Tuesday, Aug. 24, meeting with representatives of The Rhythm Night Club Memorial Museum, The Dr. John Banks House, and the Natchez Museum of African American History & Culture. He was joined by Roscoe Barnes III, the cultural heritage tourism manager for Visit Natchez.
While touring the museums, Spann praised the museum staff for the work they've done and assured them that MHC is ready to "partner with them" for the long term. He asked each of them about their specific needs and their goals for telling their story. He also spoke with them about funding through various grant programs.
"This past trip to Natchez was the first of many for the humanities council," said Spann. "We hope to work with more museums and historical sites that uplift stories essential to Natchez and Mississippi in the future."
Monroe and Betty Sago, who own and operate the Rhythm Night Club Memorial Museum, said they were very pleased with Spann's visit.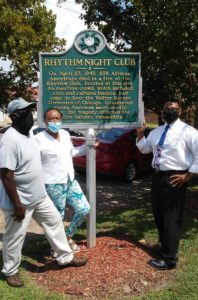 "He was right on time with what he was saying," said Monroe. "This was the first time that someone from the state came to the museum and offered to help us. He was very positive and very clear about the things we can do to grow and to receive funding and other support for various projects."

Spann said he was impressed by the museums and what they have to offer. "The evidence of resilience, affluence, and freedom within the African American Community of Natchez is shown within the museums and historic sites I visited during my trip," he said. "I was happy to know that these stories are being preserved and uplifted by local people and the humanities council desires to help them continue doing that in various ways."