george metcalf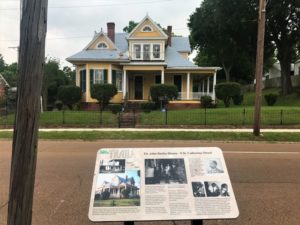 This No. 9 St. Catherine Street Yellow House Ser Seshsh Ab Heter-Clifford M Boxley's Libation on the 54th Anniversary of the Attempted Assassination of NATCHEZ MISSISSIPPI National Association of Colored People (NAACP) Branch President George Metcalf
By Ser Seshsh Ab Heter-Clifford M. Boxley
Date of Release: December 3, 2020
Released to Bobby Dennis of Natchez Mississippi for his publication.
On this day August 27, 2019 it was 54 years ago around noon that KKK types attempted to assassinate by car bomb then local Adams County-Natchez NAACP President George Metcalf.
On morning of August 27, 2019 at number 9 St. Catherine Street my person and Darrell White conducted a memorial African tradition libation aimed to bring attention to the history of the modern civil rights movement happenings that No. 9 St. Catherine Street yellow house represents and speaks about.
We acknowledged that it was kind of ironic that on August 27, 2019 in Adams County/Natchez Mississippi there was "Black" people going to vote in a runoff election because 54 years ago they couldn't vote because of Jim Crow segregation racist discrimination and terror.
That this day is the same day that 54 years ago KKK types tried to assassinate the local NAACP President who had just filed a petition to desegregate voting.
Memory had faded so much that most folks today could not make the connection, nor understand the significance.
More cases of Select-amnesia-forget-us and Select-amnesia-don't-want-us-to-remember illness permeate the Black and White population of Adams County and Natchez when it comes to historic memory of the modern civil rights kind.
This No. 9 St. Catherine Street Yellow House
This house is where George Metcalf lived upstairs while working at Armstrong Tire and Rubber Company.
In this house George Metcalf operated a boarding-house business before the modern civil rights movement's organizers came to Natchez in 1963 and 1964.
On July 21, 1964, as part of the state-wide Freedom Summer Project, Student Non-Violent Coordinating Committee (SNCC) workers returned to Natchez and attempted to organize a "Freedom Ballot" and begin a small Council of Confederated Freedom Organization (COFO) voter registration project.
This was being done with the help of George Metcalfe of the Natchez NAACP.
SNCC members included Dorie Ladner, Chuck McDew and Charles "Chico" Neblett, who established a base of operations under the auspices of COFO. SNCC members George Greene, Bill Ware and Burt Watkins also arrived in Natchez from elsewhere in the state of Mississippi.
Five days later George Metcalfe received a bomb threat in this house where some of the COFO workers slept.
KKK type persons attempted to assassinate beloved Dorie Ladner and some other out of town SNCC Civil rights workers by bombing SNCC's Freedom House No. 1 located at "Jake Fisher's" place in the 600 block of South Wall Street on July 1964. They had just arrived on July 21, 1964 and this house is where activist George Metcalf allowed them to stay until they set up Freedom House No. 2 at 119 East Franklin Street.
In January of 1965 threats against George Metcalf intensified when night riders fired shots through the window of this house.
At night armed guards protected this house that the freedom workers were allowed to stay.
From this house emerged two strong local leaders, George Metcalf and his good friend Wharlest Jackson Sr. both of them were active members of the Adams County-Natchez NAACP Branch and both worked at Armstrong Tire and Rubber Company.
In March of 1965, new, more militant leaders were elected to lead the Natchez NAACP branch thereby replacing the old-guard.
This house's resident George Metcalf was elected president and his dear friend Wharlest Jackson Sr, his co-worker at Armstrong Tire and Rubber Plant, was elected Treasurer.
Other members were Willie S. Scott, 1st Vice President, Archie Jones, 2nd Vice President, Jessie B. Bernard-Williams, Secretary, Mamie Mazique, Assistant Secretary. Other general members were Archie Curtis, John Fitzgerald, Mozana Green, Holy Family Church's Father Morrissey, George West Sr., Jonathan Grennell, Rayfard Baptist, Robert Johnson Sr, Leon Howard, June Calhoun, Leola Newell, Willie Mae Robinson, Willie Mae Newman, Roy Merrick, R T. King and others.
On the second floor of this house George Metcalfe established the office of the now reorganized Natchez NAACP Branch.
At this house President George Metcalf faced constant death threats from Klansmen, many of whom were his co-workers at Armstrong Tire and Rubber Plant where he and NAACP Treasurer Wharlest Jackson Sr. begin organizing against Armstrong's refusal to implement the Civil Rights Act of 1964. The plant's jobs, restrooms, drinking fountains and break areas were all still segregated by race.
From this house the Adams County-Natchez NAACP branch conducted a voter registration project in the summer of 1965.
However that summer the COFO coalition was dissolved at the State level.
But at this house George Metcalf and Wharlest Jackson along with other Adams County–Natchez NAACP leaders maintained a good working relationship with SNCC's Dorie Ladner and the other members of the Natchez project.
Over the summer of 1965 from this house the NAACP continued to work with the Mississippi Freedom Democratic Party and SNCC on a project to challenge the all white members only of the Mississippi delegates to the National Democratic Party convention. With more volunteers and veteran SNCC organizers arriving at the SNCC's Freedom House at 119 East Franklin Street, the voter registration project expanded.
After The Voting Rights Act of 1965 was signed into law on August 6, 1965, outlawing practices designed to keep black citizens from registering to vote, out of this house NAACP leader George Metcalf in the middle of August filed a desegregation petition with the school board on behalf of himself and 11 other Blacks
Then the Klan stepped up their attack against George Metcalf with threats and violence.
From this house George Metcalf went to work at Armstrong Tire and Rubber Plant the night of August 26, 1965. It was his first shift working in a new position as a shipping clerk. It was a white-man only job.
On the morning of August 27, 1965 George Metcalf was told to work a half shift of overtime. He got off at noon to come home to this house. When he got in his 1955 Chevy in the Armstrong parking lot and turned on the ignition, a bomb that had been placed under the hood of his car exploded, destroying the car and badly injuring him. Miraculously he somehow survived.
While the NAACP President George Metcalf was being cared for at the then Jeff Davis Hospital, (now Merit Hospital) local angry Black people, young and old poured into the streets and showed up at the NAACP Office at this house by the hundreds that evening of the bombing.
Hundreds of people including organizers of SNCC and Mississippi Freedom Democratic Party members among them jammed packed the front yard of this house and into the streets demanding action and called for marching on city hall and vengeance. Many Black folks were armed with pistols, rifles, shotguns and other weapons.
Interloping State NAACP director Charles Evers, brother of slain State NAACP leader Medgar Evers, rushed down from Jackson Mississippi and took command of the Natchez NAACP Branch office in this house. Evers stood on this house's front porch and announced that "this was a NAACP Project."
See the documentary film called "Black Natchez" which captured the crowd, the furious mood among the crowd, the rejection of other civil rights organizations' leaders and the goings on in the NAACP office on the second floor of this house.
Over the next few days "Local people" galvanized and furiously held nightly mass meetings and planned demonstrations in the absence of satisfactory action coming from this house.
From this house NAACP members drew up a list of 12 demands that were approved at a mass meeting and presented by a select committee of older Black men to the Mayor and Board of Aldermen demanding the end of segregation.
SNCC organizer Bill Ware stood on the hood of a car in the street in front of this house encouraging local people to march on city hall, announced that Dorie Ladner had just told him that the Natchez Mayor John Nosser and the Board of Aldermen had rejected the list of demands they were to consider on September 2, 1965.
That very same September 2, 1965 the Natchez Mayor John Nosser and the Board of Aldermen imposed a 10:00 pm curfew – enforced only against blacks and prohibited the sale of alcoholic beverages.
At the same time Mississippi Governor Paul Johnson dispatched 650 national guardsmen to patrol the city on September 2, 1965.
Over the next few days the Mississippi National Guard armed with fifty caliber guns and the Natchez Police were constantly driving up and down St. Catherine Street in front of this house. Speaking from the front porch of this house after Mayor John Nosser and the Board of Aldermen rejected the list of demands, Charles Evers – concerned about the possibility of a violent confrontation with the National Guard and the gathering of more than 500 blacks, called for an economic boycott of downtown white businesses instead of marching at that time.
James "Big Jack" Jackson who stood on the porch of this house during the mass gathering decided it was time to organize an organization of armed men to protect the Black community and civil rights workers from KKK, police and other whites' terrorism, violence and intimidation. He and four others defied the curfew and traveled to Bogalusa Louisiana to meet with the Deacons for Defense and Justice leaders seeking their help with organizing the Natchez organization of Deacons for Defense and Justice (see various video and audio interviews of members of the original Natchez Deacons for Defense and Justice in Ser Boxley's archives).
When Governor Johnson pulled the National Guard out of Natchez, leaving behind highway patrolmen to enforce the curfew, local people including NAACP leaders from this house organized the first demonstration of black citizens that took place on September 9, 1965 where 200 people marched peacefully on Natchez city hall.
At the same time local people including NAACP leaders from this house organized a strictly enforced within the Black Community, boycott of white businesses.
In retaliation, white owned businesses fired black employees and many white housewives dismissed their black maids. "(The movie The Help)"
On Saturday, September 25, nearly 1,000 local people demonstrated in the streets, and another march of 1,500 people was planned to march the next two nights later to test the curfew.
On October 2, 1965 more than 300 people lined up to march in defiance of the injunction; many more started to march on October 3rd and October the 4th.
These marches were to start from Beulah and China Grove Baptist churches and then proceed to the Adams County Courthouse, however the marchers were arrested immediately by the Natchez police on the sidewalks in front of the churches and taken to the city jail and City Auditorium for holding.
Hundreds were arrested on charges of parading without a permit, and once the local jails were filled, those over 12 years of age were sent to the notorious Parchman state Penitentiary, more than 200 miles away.
The abusive treatment of these non-violent Natchez citizens at the prison was horrifyingly inhuman. See the documentary film called "The Parchman Ordeal."
It is written that using the methods of Armed self defense; economic boycott of white owned businesses; and enforcement of Blacks to honor the boycott, the local people's modern civil rights movement that was ignited by the car bombing of the NAACP President who lived in this house and housed the local NAACP Branch's office in this house was so successful that, "Whereas virtually every other local campaign had ended in failure during the Civil Rights movement in Mississippi, the Natchez project had mobilized an entire community and exacted sweeping concessions from the white establishment—without federal intervention.. The Natchez campaign was the single greatest community victory for the Civil Rights movement in Mississippi"…Professor Lance Hill, in his Book the Deacons for Defense, 2004
By Ser Seshsh Ab Heter-Clifford M. Boxley
Date of Release: December 4, 2020
Released to Bobby Dennis of Natchez Mississippi for his publication.